Weekly brief: More than 4,800 Northants Covid cases in last seven days
Plus the latest health report and some green news from Corby
Covid case rate highest in Corby
There have been more than 4,800 Covid-19 cases in the county in the past week.
Corby has the highest Covid rates in all of the county's towns as the manufacturing hub has now surpassed Northampton as the place with the most cases per 100,000.
In the past seven days the town has had 709 cases and now has an infection rate of 981.7 per 100,000 people.
Corby's MP Tom Pursglove says following a virtual meeting with regional department of health and social care bosses and the leader of Corby Borough Council Tom Beattie, on Tuesday, there will now be a task force sent to the town to investigate the growing case rate.  He said it would help inform national policy, in the way an investigation at the Greencore site in Northampton had done so last summer.
Speaking to NN Journal yesterday the MP said: "We were left with the impression this task force was happening imminently."
However the government will not confirm this. Yesterday lunchtime a government media officer categorically told NN Journal this would not be happening. The MP said it was a case of crossed wires.
In a follow up statement at 6.30pm a Government spokesperson refused to confirm the task force: "We are committed to working with local authorities to curb the spread of the virus and continue to monitor the situation in Corby closely."
"We have worked with trade unions, businesses and medical experts to produce comprehensive COVID-secure guidance so that businesses permitted to remain open can do so in a way that is as safe as possible for workers and customers."
There are fears the town's manufacturing industry could be contributing to cases but public health boss Lucy Wightman has pointed to household transmission as the cause of the soaring numbers and recently only two outbreaks have been recorded in Corby workplaces.
Last week Cllr Tom Beattie wrote to the PM to ask him to close all non-essential manufacturing companies. Current guidance allows them to remain open and the government says where people cannot work from home they should continue to travel to their workplace.
Cllr Beattie wrote: "Corby has a strong manufacturing economy, and consequently is seeing a disproportionate number of our residents being required to continue to go to work, increasing the risk to themselves and families of spreading the coronavirus.

Whilst I appreciate there is an economic interest to keeping the businesses running, I do not consider that argument outweighs the risk to those residents' lives, when options such as furlough are available and further business support could be made available to those impacted.

"I urgently call on the Government to review the current guidance issued in relation to this matter and to strengthen the message that only essential businesses should continue to operate to stop the spread of the virus and save lives."
A week on government guidance currently remains the same.
Other local authority rates (in order of lowest to highest) in the most recent seven day period are: East Northants has 387 cases per 100,000 people (366 cases in past week); South Northants' case rate is 438 per 100,000 (623 cases); Kettering's rate is 512 per 100,000 (521 cases); Daventry has 586 cases per 100,000 (504 cases); Wellingborough's rate is 616 per 100,000 (491 cases) and Northampton has 920 cases per 100,000 (2067 cases).
---
Changes needed in health care for over 65s says new report
Northamptonshire is likely to need 150 extra GPs, a new hospital and could see an additional 2,500 requests for social care by 2024 if changes aren't made to our health care services.
This is according to a report produced by iCAN, a programme driven by Northamptonshire Health and Care Partnership to improve health outcomes for older people. 
The report says the number of over 65s in the county is estimated to increase by 15,000 within three years which will add additional pressure on health care services. Ruth Harrison, who presented the report to the Northamptonshire Health and Wellbeing Board yesterday said if things continue as they are, the impact on acute hospital beds, social care and emergency departments would be "quite scary".
But the report has also identified some key changes that could ease the pressure. 
Among those was the need for new community hubs where older people can access care, community based teams of healthcare workers and a better use of new technology. Key to the plans is the need to ensure that nobody is in hospital that doesn't need to be and more preventative measures are in place to keep people well.
---
Council commits developer cash to keeping woodland staff team
Corby Borough Council this week dedicated more than £320,000 of developer funding to ensure its woodland manager and park ranger continue in post for the next five years.
As part of its Woodland Project the authority employs two staff who look after the large number of green spaces and woodland within the borough such as East Carlton Country Park, Kingswood Local Nature Reserve and the West Glebe park.
Since 2012 the roles have been funded by a Homes England grant, however the cash will run out later this year and so on Tuesday night the council's one corby committee voted to commit £322,105 from the 106 money that came from the Midlands Logistic Park off Geddington Road.
The woodland manager salary is £45,000 and the park ranger is paid £24,000.
Before the councillors voted the council's principal leisure officer Julie McKinnon said: "If the council does not invest in both posts the woodland project will be supported by one parks and woodland ranger and that is not sufficient to maintain the high quality green provision being offered to the residents of Corby and its visitors."
Councillors voted unanimously to put the developer cash towards paying for the salaries.
---
If you haven't read all of our stories this week you can catch up now. We told the story of a man who has been living in his car for six years, we reported on allegations of bullying within the Wellingborough Conservative association, we looked at the impact that Covid-19 has had on charities in the county and we asked if Northamptonshire's electorate will finally get to the polling stations.
Reaction to our stories

'Huge growth in need for emergency interventions': How Covid crisis has hit local charities by
@NNjournalism
nnjournal.co.uk/p/huge-growth-…
Another important piece of local journalism from
@NNjournalism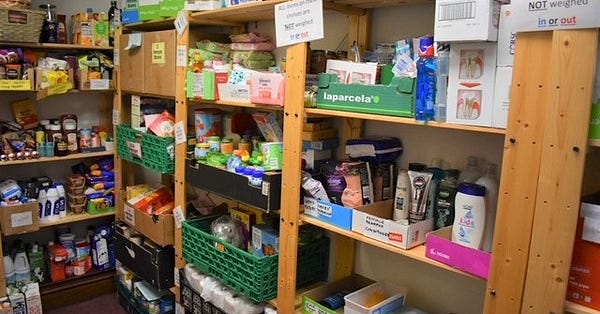 'Huge growth in need for emergency interventions': How Covid crisis has hit local charities
Pressure on already stretched voluntary sector
nnjournal.co.uk
---
Thanks for reading. Please spread the word and help support our local journalism.